Click on the venue you're visiting:
2 Daly Avenue
In downtown Ottawa, there's lots of street parking; you'll just have to walk a bit. Many people choose to park near uOttawa on Stewart and Wilbrod Streets. There's also parking in the Byward Market a short walk away.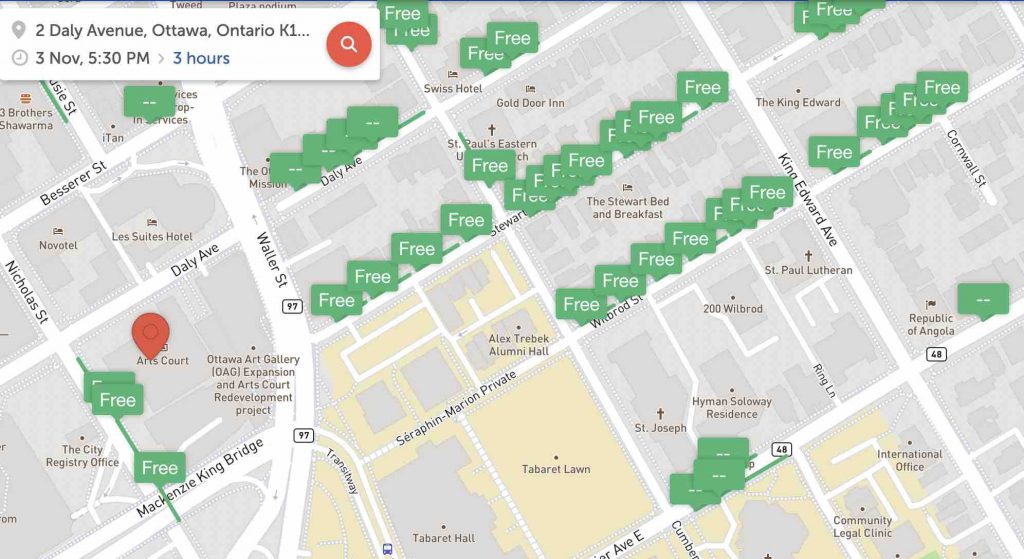 When you get into the building, you can ask for directions to the Ottawa Dance Directive. Or take a look at this handy video to know where we will be.
61 Main Street
Here, you will have to look for parking. This map can help you.
The thick green lines are residential avenues where it is possible to park for free.
The blue blocks are parking lots that you can use because they are unmonitored on weekend nights:

There is a parking lot at Immaculata High School.
There is one between St. Nicholas Adult High School and the elementary school. The blue arrows indicates where you can enter.

The red block indicates a small parking lot where you should NEVER park because you will get towed.
In orange, there is a Scotiabank parking lot just across the street from the venue. We have not yet confirmed it is ok to park there on the weekends, so I wouldn't for now.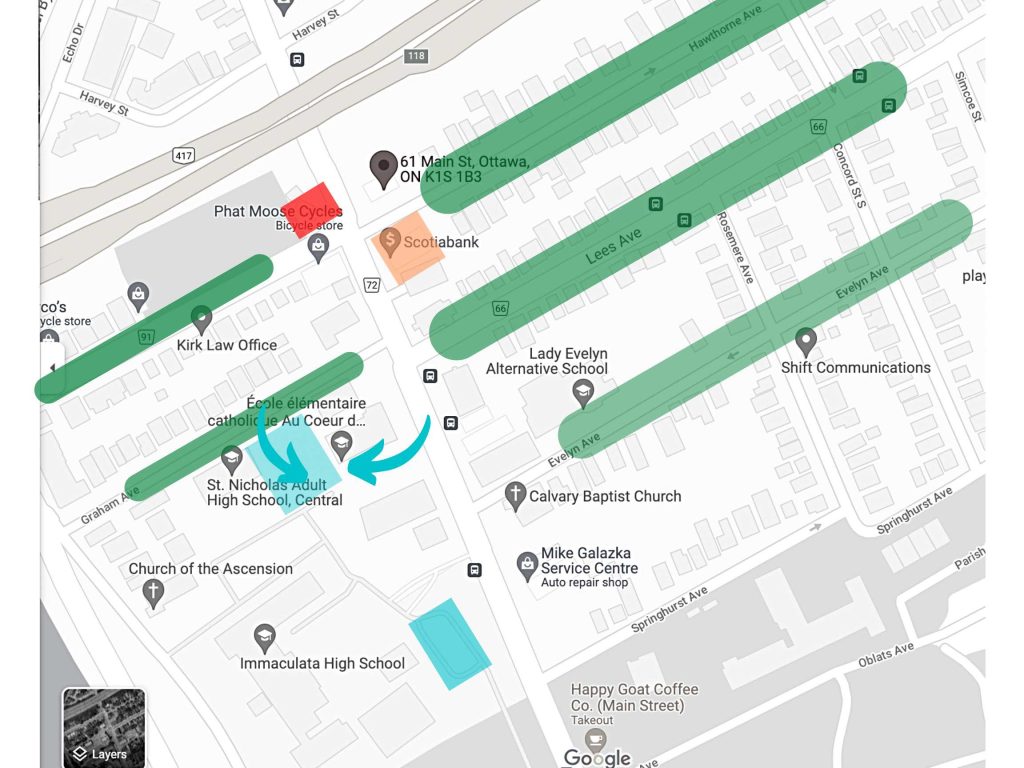 ENTERING THE BUILDING
There will usually be a staffer downstairs. You don't have to check in with them. Please use the coat racks and leave your shoes downstairs so that the stairs and dance floor stay clean.
WHEN YOU COME UPSTAIRS
You will notice some desks and teaching materials – please do not touch these. Thank you.
430 Churchill Avenue N.
The parking lot to the NORTH of the building is now a paid parking lot. WMH does not actually own this plot of land. (Weird, we know.) So if you choose to park there, you will have to pay (there's a sign with a QR code that directs you to the payment system), but it's not expensive.
The parking spots at the "back" of the parking lot belong to WMH and are free, for those of you arriving early.
The red block in the photo below indicates the fire lane, and parking is not allowed there.
There is free street parking all along Churchill and the surrounding area.
120 Lisgar Street (Knox Presbyterian)
Even though Knox Presbyterian's address is listed on Lisgar Street, please enter Geneva Hall though the front garden entrance found on Elgin Street.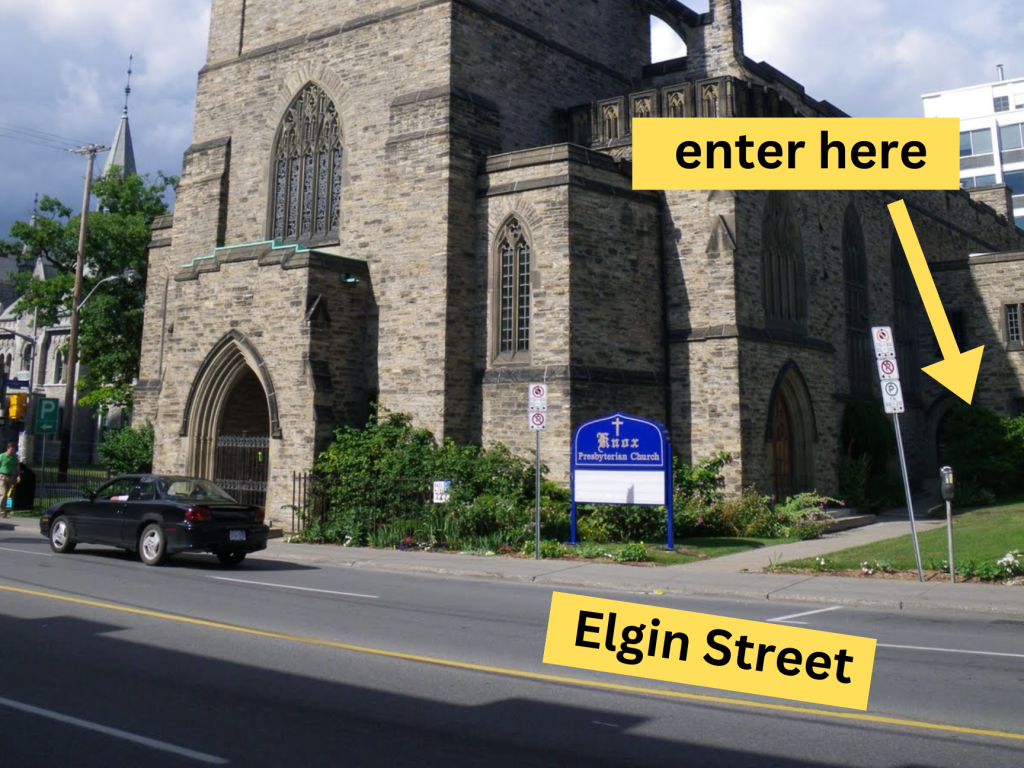 On evenings and Saturdays, there is free street parking throughout Centretown (highlighted in light green). You can also park at City Hall's underground parking (indicated with a dark green arrow) for $2 on weekends and weeknights from 6 PM.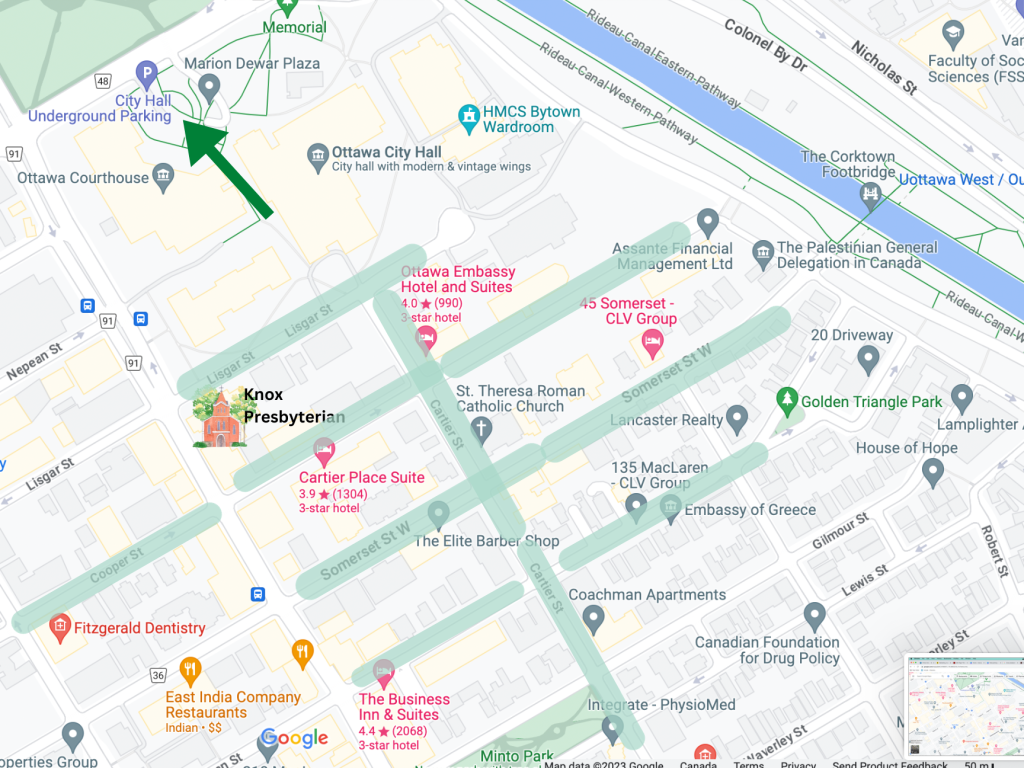 211 Bronson Avenue (Bronson Centre)
This is an occasional venue we use for class. As there are multiple rooms in the building, we will let you know which room look for before the event.
There is plenty of free street parking around Bronson Centre. We recommend Lisgar and Cooper Streets or Primrose Avenue (they are less "shady" than the areas along Nepean Street and Bronson Avenue). There is also a parking lot directly behind the building that can be used during the evening.