The Sunday Práctica is a casual get-together where you can try new things, review what you have learned, and ask questions! It's also a great opportunity to dance with new partners of all levels.
Each week, we'll throw in an Idea of the Week. This could be a figure, a point about technique, or a musicality tidbit. It's a good chance to get everyone on the same page during the Práctica.
Práctica is $12 per person.
BEFORE YOU COME
No pre-registration necessary.
We recommend you get your booster vaccines and flu shots as they become available.
We highly recommend masks. Please have a mask handy if someone you would like to dance with prefers that you wear one also.
Please make sure you are not sick, whether it's with COVID or a cold.
UPCOMING SCHEDULE FOR WINTER 2023
January 29
6:00 – 8:00 PM
February 5
6:00 – 8:00 PM
February 12
6:00 – 8:00 PM
February 19
3:30 – 6:00 PM
(Special Guided Práctica with Alison Murray and Carlos Boeri)
February 26
6:00 – 8:00 PM
March 5
6:00 – 8:00 PM
March 12
6:00 – 8:00 PM
March 19
6:00 – 8:00 PM
March 26
6:00 – 8:00 PM
April 2
6:00 – 8:00 PM
April 9
No Práctica (Easter)
PARKING
At 61 Main Street, you will have to look for parking. This map can help you.
The thick green lines are residential avenues where it is possible to park for free.
The blue blocks are parking lots that you can use because they are unmonitored on Sunday nights:

There is a parking lot at Immaculata High School.
There is one between St. Nicholas Adult High School and the elementary school. The blue arrows indicates where you can enter.

The red block indicates a small parking lot where you should NEVER park because you will get towed.
The orange block indicates the Scotiabank parking lot. We have not yet gotten confirmation that we can park there on the weekends, so it's at your own risk.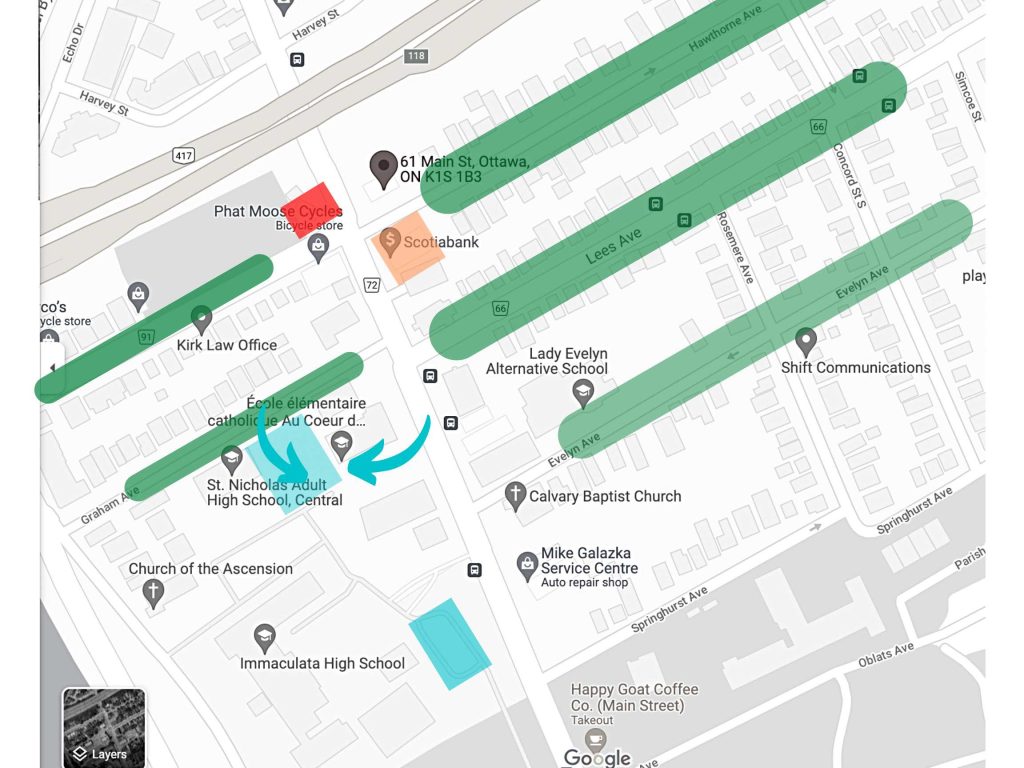 WHEN YOU COME UPSTAIRS
You may notice some desks and teaching materials – please do not move these.
Let us know if you have any questions.
If it's close to the time of the práctica, SMS or call (613) 366-8446.